Though cliched, the age-old adage of water being the elixir of life, rings true even in current times. Water is essential for you to lead a healthy life, as it supports almost all the biological processes in your body.  In a scenario where the world is reeling under an onslaught of pollution and excessive chemical usage, water bodies also bear the brunt of these pollutants. 
The water that is available for consumption through civic sources may still be contaminated with pathogens and heavy metal traces, making water purifiers a necessity. With everything available for rent today, water purifiers are no exception. So, should you buy or rent a water purifier? Here, we delve into the topic of renting vs. buying and consider the benefits of renting a water purifier, to help you arrive at a choice best suited to your needs.
Why renting a water purifier may be a good idea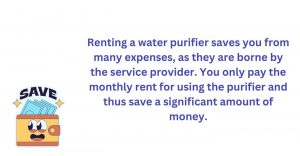 Getting access to clean drinking water is crucial for your well-being and this is the reason why most households invest in a water purifier. However, not everyone can afford to invest in a purifier, or it may not be practical, if you are in a transferable job. Here are some reasons to consider renting a water purifier.
1. Prevents bulky investments
Installing a water purifier is a costly affair. Other than the cost of the appliance, you will have to incur installation and maintenance costs. Renting saves you from these expenses, as they are borne by the service provider. You only pay the monthly rent for using the purifier and thus save a significant amount of money.
2. Offers flexibility
This is especially useful if you are in a transferable job or are in a temporary residence. Getting a water purifier on rent, ensures that you are saved from the hassle of uninstalling and reinstalling the purifier, each time you shift. Renting enables you to return the purifier to the service provider, without worrying about the damage or reinstallation, thus helping you save on the cost and effort. 
3. More options
When you buy a purifier, you are stuck with it for better or for worse, until it's time for a replacement. A water purifier on rent gives you the flexibility of returning the appliance at the end of the rental period and trying a different model. 
4. Various plans
You can choose from the variety of rental plans available, from a single person to a large family, which is not possible if you own a water purifier.
5. Save on maintenance costs
Consistent servicing and maintenance are essential for a water purifier to work effectively. Sometimes, major parts may become faulty, requiring you to shell out hefty amounts from your pocket. This can be avoided by investing in a water purifier monthly rental.
But as with everything in life, renting water purifiers has its flip side too. 
1.Vendor contracts
Many times vendors put in time and usage constraints in the contract. For example, a vendor may put in the time of rental contract as 6 months or one year, in which case you get locked in with the device for the stipulated time. Also, some vendors may put an upper limit on the water usage. This may prove to be detrimental, especially if you have a large family, as you will have to pay for every extra liter of water you use, over and above the limit.
2. Ownership issues
The rent that you pay for several years on the water purifier may cover the cost of owning one. So, unless you move places often, or live in temporary houses, this may not be practical, budget-wise, in the long run.
3. Dependent on the provider
You become dependent on the service provider to ensure proper servicing and maintenance, which is important for its effective functioning. So, you have to do your research and zero in on a reliable water purifier rental company, which will honor its commitments.
How does rental work?
1. Water purifier rentals work on subscription models that are usually easy to adhere to. When you rent a water purifier, most service providers have a variety of plans to suit your needs, whether you are a single person or a larger family. 
2.The first step is to submit all the required details including address, in the forms provided. Most companies also have a referral system that allows you to avail of various discounts.   
3.Once the payment is made, installation usually happens in 48 hours.
4.Payment is charged as per your water usage patterns, usually on the liters that you consume   within a stipulated period. 
DrinkPrime Subscription Plans
At DrinkPrime, we're proud to be at the forefront of the water purifier rental industry in India, setting a new standard in providing clean and customized drinking water. We understand that one size doesn't fit all when it comes to water purification, and that's why we offer IoT-enabled customized water purifiers based on your local water quality.
This saves you from getting over-purified or under-purified drinking water. Starting with a seven-day free trial period, we also have a mobile app to track your water consumption and request for service or help. You can even track the health of your filter in real-time.
We've redefined affordability and convenience with our pay-per-consumption model. With four flexible subscription plans—Solo, Couple, Family (up to 4 members), and Unlimited (ideal for larger households)—you have the freedom to choose the plan that perfectly suits your needs and the duration you desire.
For your peace of mind, we levy a security deposit of Rs 1500 which is refundable when you return your device. You also get FREE delivery, installation, maintenance, and relocation services once you subscribe to us. 
When you rent a water purifier, you can also cancel your subscription anytime by giving a 30-day notice period. 
Conclusion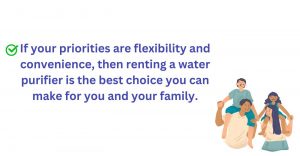 Whether to rent a water purifier or buy one comes with its own set of pros and cons. Ultimately it should be based on your needs and requirements. If your priorities are flexibility and convenience, then renting may be ideal. If you do not need constraints on water usage, it may be better to buy. Finally, it boils down to weighing in on your needs, doing due diligence checks, and then making an informed choice.