Are you still drinking tap water every day?
Then we have some bad news for you.
Gone are the days when you could drink water straight from your tap. Nowadays, your tap water is heavily contaminated with pollutants, ranging from biological to chemical contaminants, making it harmful to drink.
According to a survey, only 2% of Indians have tap water in their homes that is fit for consumption. Shocking, isn't it?
This is why a reliable water purifier is a must-have for every household. No wonder so many Indians are investing in water purifiers, especially Reverse Osmosis (RO) water purifiers, for safe and healthy drinking water. 
If you are wondering whether to buy a RO water purifier or not, you have come to the right place! In this blog, we explore in detail RO water purifiers, the benefits of RO water, and why you should rent a DrinkPrime water purifier.
Why should we use RO water purifiers?
Access to clean and safe drinking water is crucial for maintaining good health and well-being. 
Unfortunately, the majority of India's water sources are polluted due to industrial waste, agricultural practices, and poor sanitation systems. These factors contribute to the presence of harmful pollutants such as arsenic, fluoride, and pesticides in water sources, causing severe health problems such as cancer, gastrointestinal diseases, and birth defects.
The result? Your drinking water is no longer safe and you are at risk of getting water-borne diseases.
To ensure optimal health, many people are moving away from traditional purification methods like boiling water to installing a high-tech water purifier. One such purifier that is gaining popularity is the reverse osmosis (RO) water purifier.
But what does RO mean? RO stands for Reverse Osmosis, a water purification system designed to eliminate contaminants from unfiltered water.
To remove impurities, such as dissolved solids, chemicals, and bacteria, from water, these purifiers use a multi-stage filtration process. The process involves passing water through a semipermeable membrane, which filters out even the smallest particles that are not visible to the naked eye. As a result, the water produced by an RO purifier is clean, safe, and free from contaminants – making it one of the best water purifiers.
Is RO water purifier good or bad for our health?
If you want to stay healthy and boost your immunity, drinking lots of water is not going to help. As the popular saying goes: Quality over quantity! Your focus should be on what type of water you are consuming, not how much you are drinking.
This is where a RO water purifier comes into the picture.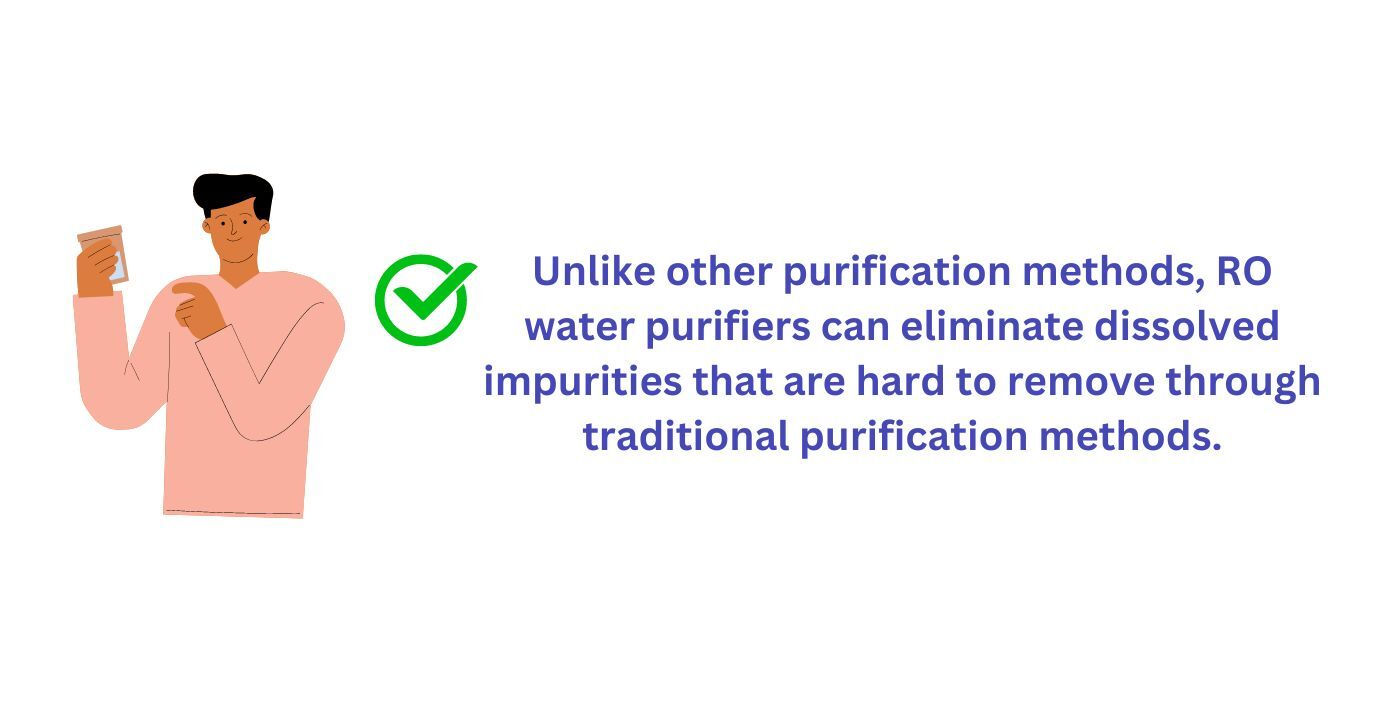 As discussed, RO water purifiers use a semi-permeable membrane to filter out harmful contaminants such as bacteria, viruses, and heavy metals. Unlike other purification methods, RO water purifiers can remove dissolved impurities that are hard to remove through traditional purification methods.
One of the main reasons you should buy RO water purifiers is to ensure that your drinking water is safe and free from disease-causing pathogens. Even if the water supplied to your home is treated, it may still contain contaminants that can harm your health. 
Why DrinkPrime water purifier is the best choice
Thinking of buying a RO water purifier? Then we have some good news: You no longer have to  spend a hefty amount on buying a water purifier. You can get a DrinkPrime water purifier for rent and get safe and clean drinking water 24X7! Here are 7 reasons why you should consider renting a DrinkPrime water purifier:
Advanced purification technology
DrinkPrime water purifier uses advanced Reverse Osmosis (RO) technology to filter your tap water. RO technology is highly effective in removing impurities, dissolved salts, heavy metals, and other harmful substances from water. Along with a high-powered RO membrane a heady combination of sediment filters, coconut shell-activated carbon, and bacteriostatic silver with post-carbon filters are also used.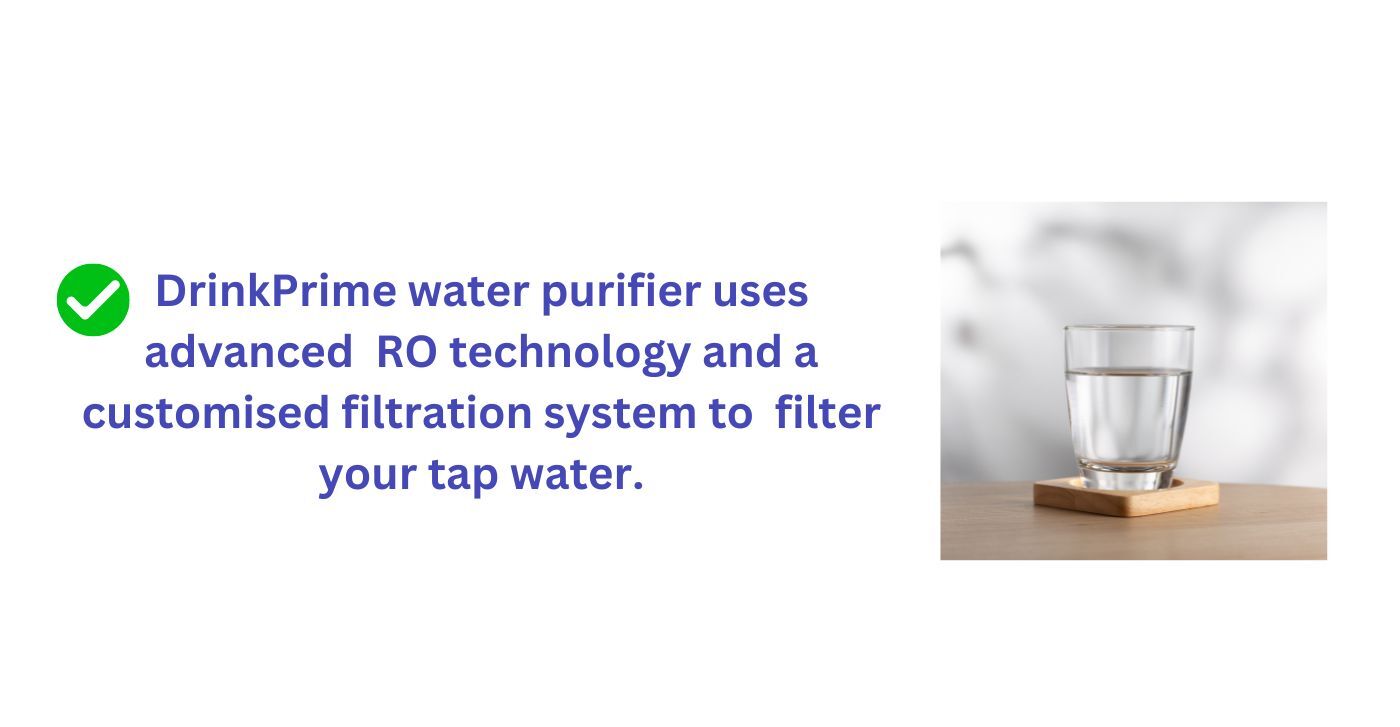 Customized filtration system
Unlike other RO water purifiers in the market, every DrinkPrime water purifier is customized with filters that suit your area's input water. How? DrinkPrime offers customization at four levels, city level, area level, product level, and household level. 
At the city level- The water quality of each city is analyzed.

At Area level: Water samples are collected from each area to determine the level of purification needed.

At Product Level:  Customized Filters to suit each area/household

At the Household level: DrinkPrime technicians analyze water quality in your kitchen.

Only after checking all these different water quality parameters, DrinkPrime customizes its water purifiers for you & your family!
IoT- enabled, smart water purifier
The DrinkPrime water purifier incorporates IoT technology, which allows it to connect with your mobile app. Through this, users can easily recharge the purifier, keep track of their water consumption, monitor the purifier's health, and adjust their subscription plans as needed. Additionally, you can conveniently seek assistance from the support team via the app.
Easy on your pocket
One way to save money without compromising water quality is by renting a DrinkPrime water purifier. And the best part? We have flexible plans – from solo plans and family plans to unlimited plans. All you have to do is choose a plan that works for you and your budget. That's not all! DrinkPrime also offers FREE delivery and installation, lifetime maintenance and filter changes, and relocation services!
Reduces the risk of water-borne bacterial infections
One of the benefits of using a DrinkPrime water purifier is that it eliminates bacteria from the water you drink, thereby reducing your risk of contracting harmful diseases like salmonella, dysentery, and hepatitis. Living in an environment with high water pollution levels can increase your susceptibility to such diseases, but an RO purifier can effectively filter out up to 99% of bacteria present in water, providing you with clean, healthy drinking water.
Offers various other health benefits
There are multiple health benefits associated with consuming RO-purified water. Not only does it improve digestion and support optimal kidney function, but it also provides essential hydration needed for your body. In addition to flushing out toxins and improving your overall well-being, drinking DrinkPrime's purified water also keeps your skin and hair healthy
Compact and space-saving design
The DrinkPrime water purifier has a sleek and compact design that can fit easily in any kitchen, small or big. 
Switch to DrinkPrime- a smart water purifier on rent!
Renting a DrinkPrime water purifier is an excellent choice for ensuring that you and your family have access to clean and safe drinking water. With DrinkPrime, you can say goodbye to the hassle and expense of 'buying' a water purifier.
So why put your health at risk unnecessarily? With DrinkPrime you can be sure that the water you are drinking is 100% clean and tasty!